Dalmarnock does it right!
Glasgow's newest Passivhaus housing development has sprung at Springfield Cross in the city's east end. The 36-unit Springfield Cross development is the last phase of the 2014 Commonwealth Games Athletes' Village and completes the overall masterplan and showcases Glasgow's commitment to provide high quality affordable homes in the city.
Designed by Robert Potter and Partners, the project was delievered by hub West Scotland, in partnership with West of Scotland Housing Association (WSHA) and CCG and achieved Passivhaus certification in 2022.
Key stats

Construction: Mixed; Concrete blockwork and insulated timber frame with facing brick outer leaf.
TFA: 2936 m2
Completed: 2022
Certified: Passivhaus Classic, 2022



Construction
To acheive Passivhus certification, the building envelope of the flatted block was constructed to deliver vastly improved levels of airtightness. The contractor CCG used their 'iQ' Timber System for the wall zones which are designed to have greter depth than a standard wall zone. Triple glazed Passivhaus windows keep out road noise while keeping in heat and providing fine views over the city.
This construction method drastically lowers heat loss so residents will require very little heating to power their homes, delivering significant annualised savings on their energy bills. Off-site manufacture of the timber frame assisted in maintaining high quality of construction and allowed the airtight layer to be installed off-site in large sheets, reducing the need for airtightness taping on site as well as reducing waste and vehicle movements, thus helping to lower carbon emissions both in construction and on site.
The Passivhaus design means that residents' energy bills will be significantly reduced. MVHR provides enhanced indoor air quality for improved health.
Building performance
To further reduce heat loss, insulation was installed underfloor and in the ceiling of each plot ensuring that each home is entirely thermal bridge free, with the exception of unavoidable thermal bridges or cold zones. To compliment the robust insulation installation, PHT member PAUL Heat Recovery Scotland were responible for the design of the Mechanical Ventilation Heat Recovery (MVHR) system which promotes clean airflow and provides enhanced indoor air quality for improved health.
Overall U-values
Wall: 0.142 W/(m2K)

Ground floor: 100mm rigid insulation on 100mm concrete blockwork overlain by 50mm Rockwool HP, 50mm cavity and facing brick outer leaf.

Upper floor (levels 1-5): 140mm timber frame with140mm mineral wool insulation faced with 10mm OSB overlain by 50mm Rockwool HP, 50mm cavity and facing brick outer leaf.





Floor: 0.116 W/(m2K)

In-situ concrete slab on 140mm rigid insulation, floating flooring on 70mm rigid insulation


Roof: 0.117 W/(m2K)

Concrete roof tiles on ventilated pitched roof, 450mm mineral wool quilt at ceiling level, plasterboard finish + service zone protecting the airtight layer.

Further information can be found at the International Passivhaus Database listing.
Designed energy performance
| | |
| --- | --- |
| Airtightness (≤ 0.6 ACH @ 50 Pa) | 0.6 @ 50 Pa |
| Space Heating Demand (≤ 15 kWh/m².a) | 12 kWh/m².a |
| Heating Load (≤ 10 W/m²) | 10 W/m² |
| Primary Energy Demand (≤ 120 kWh/m².a) | 118 kWh/m².a |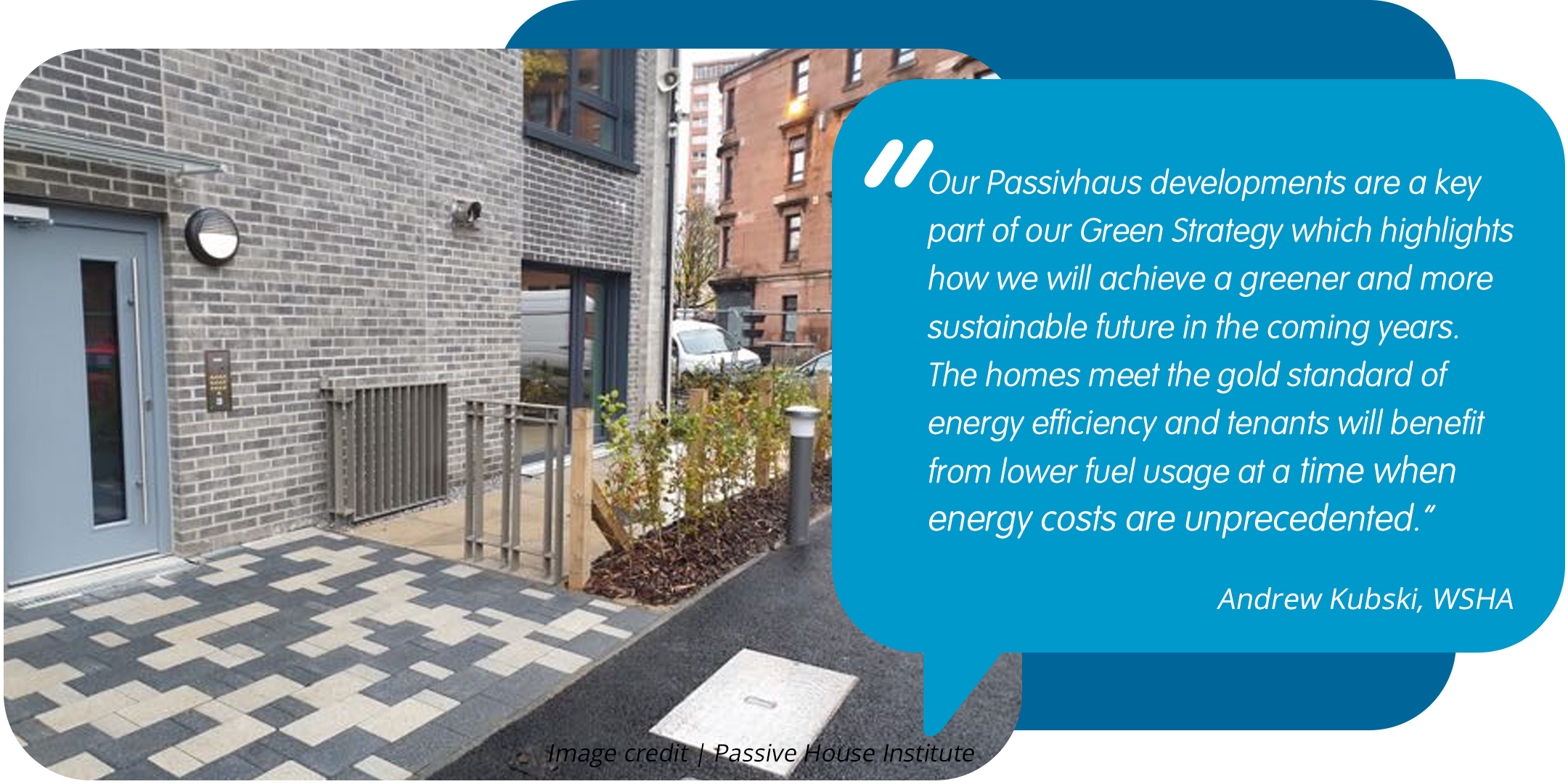 Key team

Architect & Passivhaus Designer: Robert Potter and Partners
Contractor: CCG (Scotland) Ltd
Structural engineer: G3 Consulting Engineers Ltd
M&E engineer: RSP Consulting Engineers
MVHR Design: PAUL Heat Recovery Scotland
You may also like
Further information
How to build a Passivhaus webinar series
Passivhaus Social Housing New build: on-demand
Domestic Building Environmental Standards (Scotland) Bill
11th April 2023
---
---