University Challenge 2020
The Trust are proud to partner TRADA's 2020 University Challenge. 60 students from universities across the UK will descend on Cardiff University for an intense 'charrette style' challenge 17–19 February 2020. The students will form 10 multi-disciplinary teams to compete for generous cash prizes and the prestige of winning the TRADA University Challenge.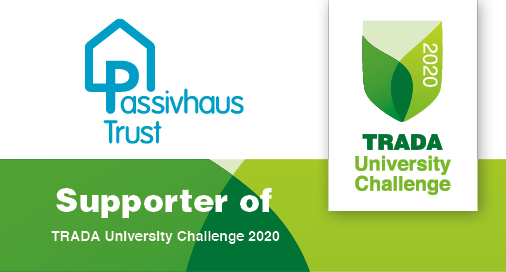 The competition brings together final year undergraduate students of architecture, architectural technology, engineering, quantity surveying and landscape architecture related courses; It creates opportunities for students to interact with industry forerunners and design professionals while gaining valuable practical experience.
When PHT member Mikhail Riches' Goldsmith Street won the RIBA Stirling Award earlier this year, it marked a turning point for Passivhaus and demonstrated that it could be delivered to a restricted budget. The notable thing about Goldsmith Street, a development for Norwich City Council, is its scale. It is currently the UK's biggest 100% Passivhaus development that is 100% social rented housing. It had to use materials wisely and strategically in order to maximise its budget, and required holistic working from the architects alongside the contractor, quantity surveyor, landscape architects, structural and M & E engineers to achieve this.
The doors have been opened by Goldsmith Street to a new form of architecture that values materials for what they bring to a project and not just their aesthetics. The timber frame and cellulose insulation used in these homes have contributed to the speed, quality and performance of the build. Its Stirling Award win is evidence that the gap is closing between the perceptions of Passivhaus and otherwise.
Tabitha Binding, TRADA's University Engagement Manager
In the future, Passivhaus and variations of it will be more commonplace – the climate crisis demands this – and Goldsmith Street might be considered a role model for normalising it on a modest budget. Not only will Norwich City Council reap the rewards of a project which has considered both the longevity of the fabric and ease of building maintenance, but the occupants will also benefit from reduced energy bills and healthy homes.
The challenge
Climate emergency is the Oxford Dictionaries' 2019 Word of the Year following a year of climate strikes (including the largest in history), mass civil disobedience, Architects Declare, reports from the Intergovernmental Panel on Climate Change (IPCC), and calls from Sir David Attenborough for action. Ultimately, the race is now on to reach carbon zero by 2050, if not before.
Every industry has its role to play and construction has its own challenges. Students are asked to take inspiration from Goldsmith Street and design timber community housing that is low-carbon, energy and water efficient, climate resilient, healthy and desirable.
The urgency of the climate crisis means that a multi-disciplinary approach to building design is not so much a school of thought as a matter of survival. Sustainable buildings cannot be one-off exemplars but must become the norm. The only way to achieve this is for all disciplines to work together with a common goal. Passivhaus gives us the necessary tools and common focus to achieve high comfort and quality with minimal energy use. Passivhaus is open and transparent and supported by a rapidly growing international community of practitioners. Whilst refinement is always possible, Passivhaus works out of the box. We really don't have time to reinvent the wheel."
Nick Grant, Passivhaus Trust
Both TRADA and the Passivhaus Trust hope that this year's competition will provoke a long-lasting passion and encourage the participating students to learn more about energy efficiency, indoor air quality, and the subtleties of handling timber. Good luck to all involved!
The University Challenge 2020 could not take place without the kind sponsorship and support of major sponsors STEICO and Arnold Laver, sponsor Stora Enso, and supporters PEFC UK, Passivhaus Trust, WTTA and Wood for Good.
Further Information
TRADA University Challenge 2020
9th January 2020
---