Lime Tree Passivhaus
Location: Swaffham, Norfolk
Completion Status: Completed July 2015
Occupancy: Occupied since August 2015
Architect: Parsons + Whittley Architects
Consultant: Passivhaus Consultant: Parsons + Whittley Architects, Mechanical: Alan Clarke, Engineer: Plandescil Consulting Engineers, Certifier: Mead Energy & Architectural Design Ltd
Contractor: Grocott & Murfitt Ltd
Client: Private
Certification: August 2015
Certifier: MEAD
Share this project:
Lime Tree Passivhaus is a small retirement bungalow on a garden plot for private clients. The design is a response to a number of key constraints including the tight site and the presence of a protected Lime tree. The curved form of the dwelling, centred around the Lime tree, allows the building to make the best use of the site and positions the tree as the central focus for both the building and the garden. The tree also serves to provide summer shading to the SW elevation ensuring an additional control against overheating. The curved monopitch roof contains an extra wide gutter and leaf protection to ensure that leaf fall doesn't become a problem.
The tall 'exterior' of the curve is constructed in brick to match the context of the adjacent development and to provide a strong shelter to the private side of the building, which in turn is clad in vertical larch timber boarding to reflect the arboreal nature of the garden. The curve finishes with a south facing gable fully glazed to illuminate the sitting room with large overhangs and flank walls to offer protection against overheating.
The building is constructed off a reinforced concrete raft supported on mini piles, carefully threaded past remaining archaeology, to support a traditional cavity wall construction and radial 'I' beam timber rafters. The insulation is provided by blown EPS platinum beads in both the walls and the roof, whilst the floor has 200mm of PIR insulation supporting a floating finish.
Constructed by Grocott and Murfitt, a first time Passivhaus contractor the construction went without a hitch thanks to their positive and proactive approach. Direct and sub contract labour trained as certified tradespersons and good communication with all of the construction team ensured a successful outcome first time.
Further Information
UK Passivhaus Awards 2016 Presentation coming soon
Podcast: Building a home in your garden for your retirement – with Robert Young
---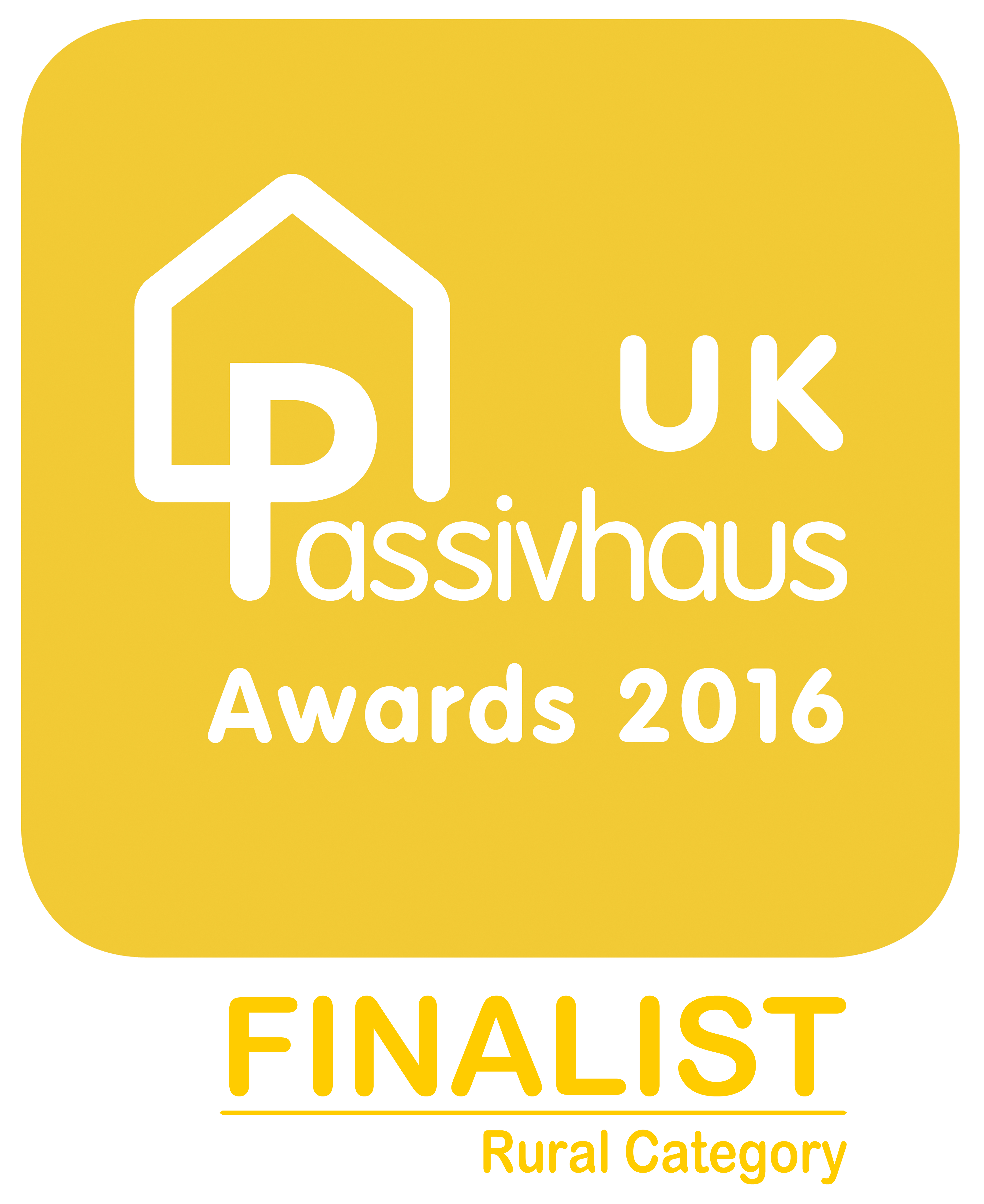 Back to 2016 UK Passivhaus Awards Shortlist