Passmore Street
Location: Belgravia, London
Completion Status: Completed January 2015
Occupancy: Occupied since February 2015
Architect: Sturgis Carbon Profiling
Consultant: Client QS/ CA: Thompson Cole, M&E Consultants: Edward Pearce, Structural Engineer: Hurst Pierce + Malcolm
Contractor: Grangewood
Client: Grosvenor Britain and Ireland
Certification: Cocreate
Certifier: March 2015
Share this project:
Retrofit Finalist: UK Passivhaus Awards 2015. Two bed, historic terraced houses that achieved first privately rented EnerPHit criteria in London. Pilot projects have set precedence for many more to come from Grosvenor.
Developed by Grosvenor Britain & Ireland, they were identified as 'pilot' projects, as part of the company's commitment to reduce their carbon emissions by 50% across their directly managed property portfolio by 2024.
Both the contractor and design team were employed under the framework agreement to delivers quality for Grosvenor's high-end market. Educating the team was a priority and hence everyone went to a PassivHaus training workshop prior to tender.
These two existing 2-bed mid-19th century terraces were renovated post-war, and had concrete floor and flat timber roofs unusual for houses of that period. The proposal was to renovate the building by stripping all finishes and fittings, reinforcing the roof, adding posi-joist floor and new timber extension to the rear. The historic fabric of the building was carefully preserved while being retrofitted using:
Super-efficient breathable aerogel internal insulation to front (0.16W/m2.K);
External EPS wall insulation with brick slips to rear (0.11W/m2.K), which was applied to the whole street of 12 terraced houses;
PU insulation to floor (0.16W/m2.K) and roof (0.10W/m2.K);
Triple glazed mock-sashes to front (1.18 W/m2.K) and PassivHaus certified triple glazed casement to rear (0.68W/m2.K);
High efficiency MVHR (Paul Focus 200);
8 PV panels that delivered carbon neutral operational emissions.
Whole Life Carbon Assessment showed that compared to existing, the two EnerPHit buildings achieve 95% operational CO2 reductions and 75% whole life CO2 reductions (including embodied emissions of materials), giving an overall saving of 840,000kg CO2e over the buildings' life (60 years).
Headline energy results for the first winter show that no. 11 and 19 Passmore St perform 77-83% better than the neighboring terrace at no. 23 that was refurbished to minimum Building Regulation Part L requirements (it received double glazing, external EPS insulation to rear (0.30W/m2.K) and aerogel insulation to front (0.50W/m2.K).
Further Information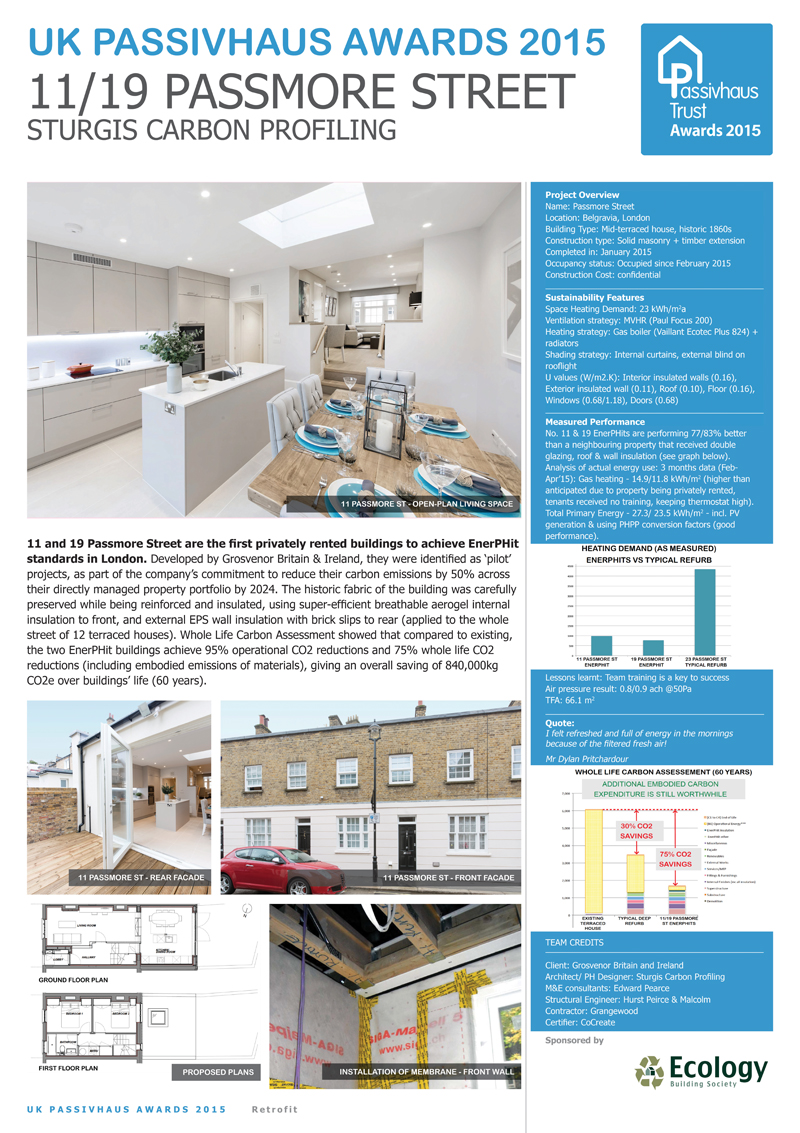 UK Passivhaus Awards 2015 Presentation
1st Private rental EnerPHit in London certified
---